Since old times, steam baths, or banya, like they are called in Russia, were believed to be the place not only for body, but for soul purification as well. People thought that banya helped to kill evil spirits, because it united all the four elements in one — fire, water, air, and earth. There is a common opinion that Russian banya is the most ancient in the world. It was mentioned in the old manuscripts of the 11th century. Slavic people who were pagans, believed in the force of water and fire. But one cannot say that they started banya traditions in Russia. There is a belief that steam baths traditions came to Russia from Finno-Ugric people. It's quite possible to believe in that fact because of famous Finnish sauna which is known to be a real cure.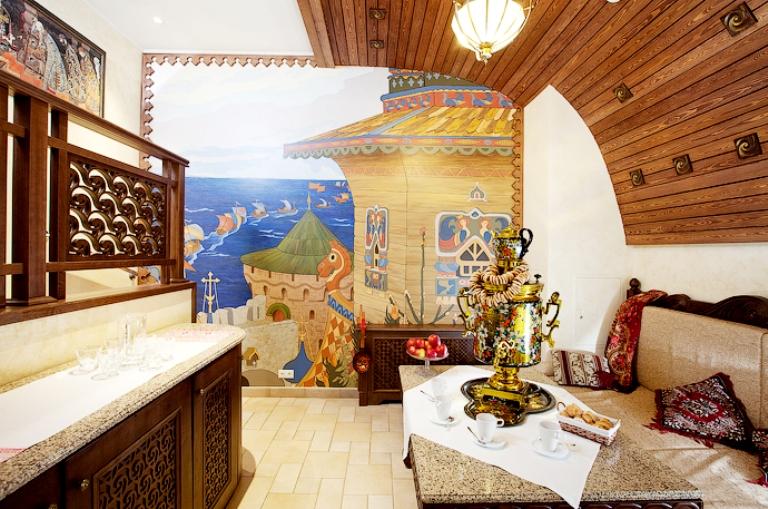 Traditionally, Russian banya was made of wood, preferably of conifers. It usually had two rooms, one of which was a kind of dressing room, and another one was known to be a steam room with shelves and oven. Banya was burnt on Saturdays, it was a unique 'banya day'. It had always been two types of making banya — 'in the black way' and 'in the white way'. The first one was about dealing with an oven which was built right in the steam room and all the steam, and smoke filled the room, and later went out through the opened door. There were logs and stones in the oven. People poured water and even traditional Russian drink kvass at the stones, in order to make more steam. Banya 'in the white way' is a banya in which smoke goes right outside.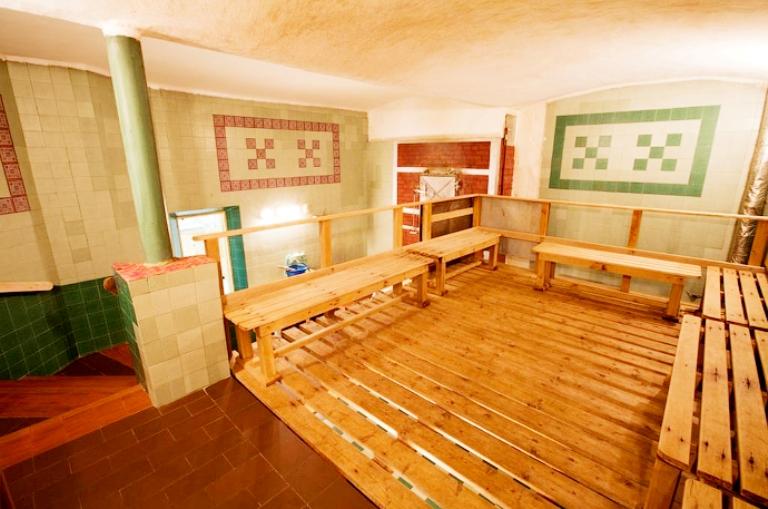 There are some rules which apply when you visit traditional Russian banya. Temperature should be no less than seventy or even eighty degrees centigrade. Meanwhile humidity should be from fifty to seventy per cent. Firstly, one should let the body be heated. So, you should start with the lowest shelf where there is not so much steam. Then, after some time, you should go upwards, where there is more steam above. When the body is warmed-up in a right way, it's the very time to start using a broom. It's usually being made of birch benches (as well as of oak's, linden's, alder-tree's, abies'), and should also be heated up carefully. People who take banya should whip each other with a broom heavily, and after that go outside to jump into a snowdrift, or in an ice-hole, for tempering the organism.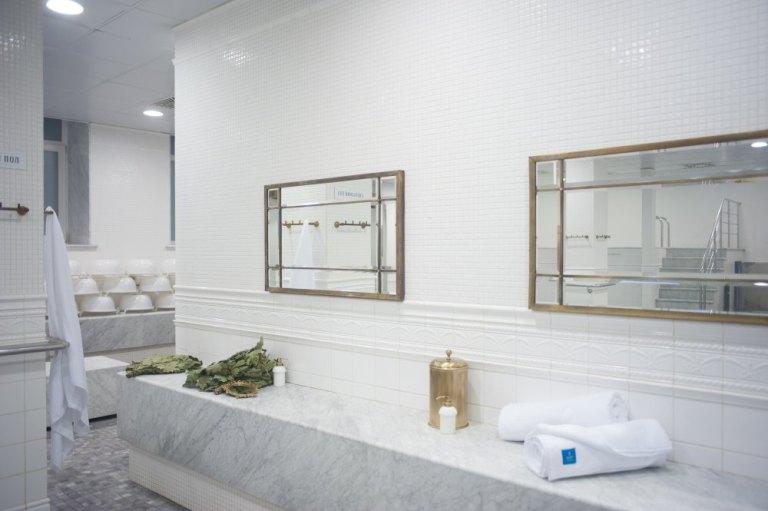 Of course, nowadays, if you want to go to the traditional Russian banya, it's better to go to rural Russia. But, despite the fact that there's no better banya as in Russian province, if you go to Moscow or St. Petersburg, you can visit famous places which have quite a long history and are thought to be obligatory for visiting.
When speaking about Moscow, you should absolutely visit Sanduny, those are the main city steam baths with more than two hundred years of history. They were established in 1808, and are located at the corner of Neglinnaya street and Sandunovsky side-street. The building itself is an architectural monument, so some people often say that it feels like a museum. If you want to go somewhere not so classic, then try Seleznyovskiye bani which are known since the middle of nineteenth century, or Krasnopresnsnskie bani which are believed to be the main competitor to Sanduny. The price range for the famous places is almost the same — from 1200-1500 rubles to more than 2000 rubles for two hours. But there are always cheaper alternatives — for example, Vorontsovkiye bani on Taganka in the historical center of Moscow, Varshavskiye bani, Astrakhanskiye, Kalitnikovskiye or Lefortovskiye.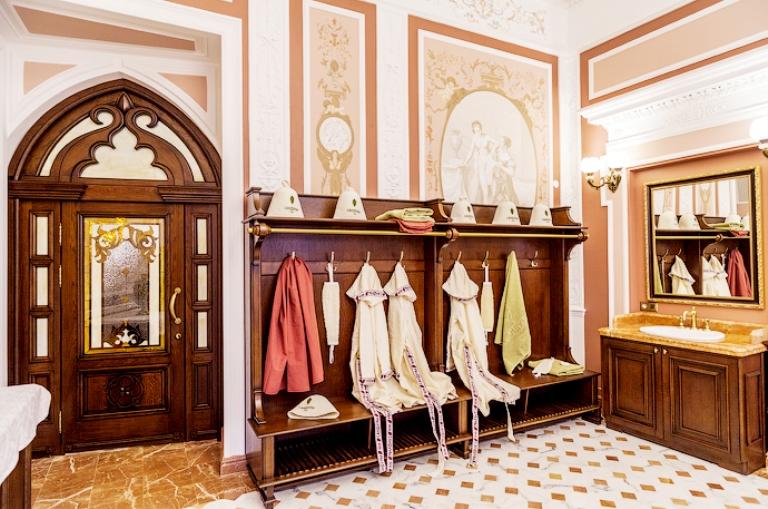 When in St. Petersburg, visit Yamskiye bani — they are famous to be one of the favorite places of the great Russian author Dostoevsky and the Soviet leader Vladimir Lenin. They are located at Dostoevskogo street, and the price for service is from about 300 rubles to more than a thousand rubles. Anyway, this kind of service is much cheaper in St. Petersburg than in Moscow, so you can try another nice variant equally. For example, you can visit Mytninskiye bani on Mytninskaya street (it's the main competitor to Yamskiye bani, they are more expensive, and are thought to be the first public steam baths in St. Petersburg as well), Voronezhskiye, Usachyovskiye, Kruglye, and Tallinnskiye.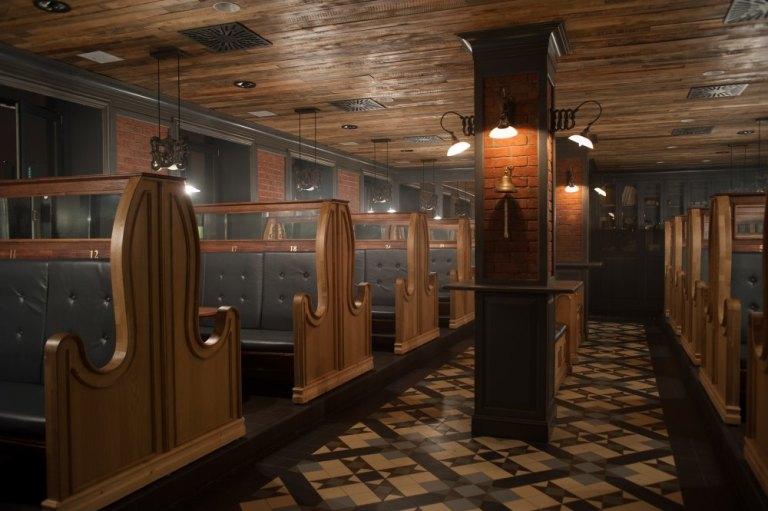 But you have to always remember that when going to Russian steam baths, or bani, you should remember not to linger there because of quite hard impact which steam may have on human organism. It's much better to visit it from time to time to enjoy the purification of heart, soul, and body, of course.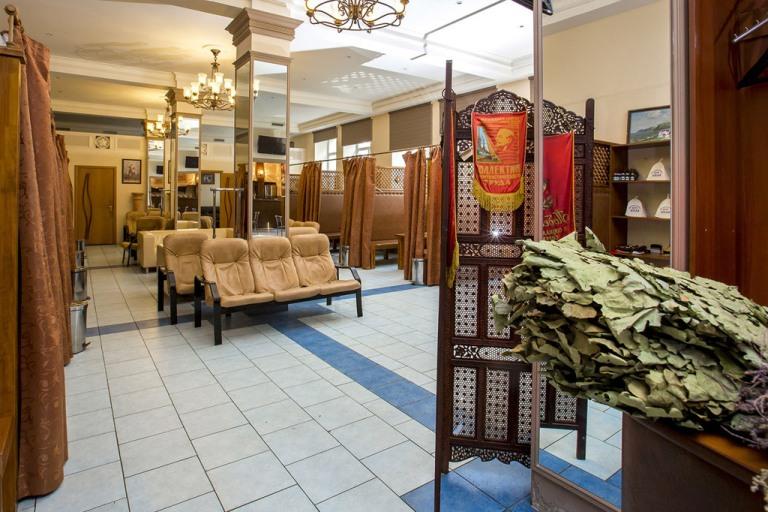 All the above mentioned bath houses offer separate cabins as well, so you always have choice either to feel the atmosphere of a public Russian bath or to have rest in the comfortable private bath rooms.
If you are not ready to experience the Russian bath on your own, but interested in its history and traditions, you can join a guided tour to Sanduny baths in Moscow. Usually the tours are held on Tuesday evenings.