General information:
There are 7 cars
337 seats available
The speed is up to 220 km/h
Allegro is Italian and can be translated as "fast". This train is probably the most comfortable way to travel to Helsinki from Saint Petersburg. The travel time is not more than 3.5 hours. Additionally, all border formalities are operated on the train. The departure railway station in Saint Petersburg is the Finlandskiy train station and there will be one stop in the Russian city Vyborg before you will cross the border between Finland and Russia. After entering Finland there are five more stops until you arrive in Helsinki: Vainikkala, Kouvola, Lahti, Tikkurila and Pasila. To go on a trip by Allegro train is very easy and comfortable and the staff speaks English, Russian and Finnish. There is special service on the train like an air-conditioning plant and pure water to drink. To ensure high comfort, every seat has a folding table, adjustable seatback, individual lighting, a socket for charging mobile phones and laptops, pegs for coats, support for the legs, storing pockets for magazines and newspapers.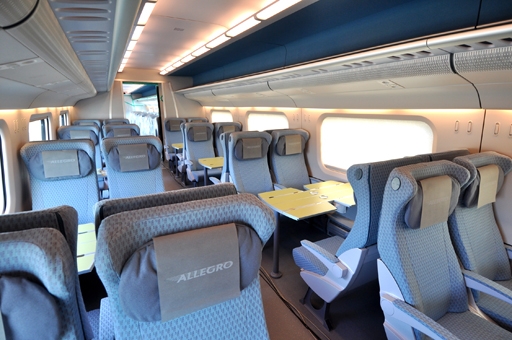 The total number of seats is 337 containing 48 business- class seats (always located in the first car) and 2 seats for handicapped people (always located in the second car). To make the trip as easy as possible for handicapped people, the train provides a lift for boarding, enough room for wheelchairs and special toilets. Of course Allegro contains a board restaurant with 38 seats for passengers and at the bar are 12 stools. In the 7th car is a special area for families containing a playroom and a diaper changing table. People travelling with pets will find dog areas in the 6th car. The seating is always in rows 2+2 and in the first class in rows 1+2 (leather seat covering). Business class passengers are offered a headset, receive a newspaper, get snacks (brought to their seat) and may always go to the self-service counter for a cup of coffee or tea.