Getting hungrier and more attracted by these delicious meals, you must be wondering where to try Russian cuisine in Saint Petersburg? We have chosen five amazing venues. Here you go.
01

Palkin

Dating back to 1785, this unique place is a must-visit in Saint Petersburg. Posh interior reminding Russian Empire times, incredible serving, and some luxury vibe will make you stay inside for hours, enjoying incredibly tasty meals, both traditional and the ones with a modern twist.
02

Troika

This gorgeous place is well-known among tourists not only for probably the most delicious meals of Russian cuisine in Saint Petersburg but also for the best shows including Russian folk dance and vocal performances. Get the best of national culture!
03

Russkaya Ryumochnaya No. 1

Well, the Russian culinary experience is impossible without tasting the vodka. The best place to drink it is the restaurant reminding small basement bars where vodka and snacks were served in the past. Here you may get over 100 types of vodka with different main courses and starters. What an enormous choice, isn't it?
04

Severyanin

Tasting Russian cuisine in Saint Petersburg might become even more memorable if it organized in an apartment copying the ones people had been living many decades ago. This is the case of Severyanin where you will feel like Russian nobles and will be able to get luxury food, particularly caviar and seafood.
05

Teremok

This Russian fast-food chain provides the best and the quickest way to familiarize yourself with thin Russian pancakes called blini. Apart from regular cafes, there are street kiosks serving this traditional meal with all the fillings are spread all over the city, which makes it easy to grab a hot blin and destroy it the next two minutes. Yeah, that tasty!

Russian culinary experience should not be limited by these five restaurants, though marvelous. If you want to get the whole list of them and be guided by detailed recommendations, we are always glad to help you!

Finally, here are some ideas on the pastime related to Russian cuisine in Saint Petersburg.
A dive to a history: best locations
There are some locations you might be interested in if you want to have a dive to the culinary, cultural, and historical heritage of Saint Petersburg simultaneously. The key one is the small café 'Pishki' at Bolshaya Konushennaya street, remaining popular since 1956. Pishki may be described as Russian doughnuts, though the only thing connecting them is the shape. They have a unique taste, and only this place serves the best pishki and represents the 'bridge' between contemporary world and USSR times. The other venue, especially valuable for those who are into books and arts is Literature café located on Nevsky prospect. Being the place for intellectuals' meetings, this was also the candy shop from where Alexander Sergeevich Pushkin headed off to the fatal duel. Then, Eliseevsky Emporium opened in 1903 by one of the wealthiest merchants Eliseev is highly recommended for visiting. Stunning both outside and inside, it attracts locals and tourists who may enter the building, have a look at posh products of huge variety, buy some of them to take away or eat right here in the small café.
Getting more involved: guided tours or quests in real life
The places mentioned above represent just the short-list. These and many other locations that are not less wonderful are the pure treasuries of history and may be better explored with some guidance of professional tour guides who will be able to uncover all the secrets and memories connected to these places in detail. Favorite restaurants of noble families, rendezvous points of famous writers and painters, dining places of characters from well-known books and movies – all these venues may be visited during the guided tours on Russian cuisine in St. Petersburg that we will be glad to provide you with, introducing to the specific meal in each of them and accompanying it with historical remarks. If you want to make such an experience more adventurous, quests filled with exciting and tricky tasks are also an option. Using our clues and googling, you will find all these places yourself, learning new facts about them, and getting as excited as possible.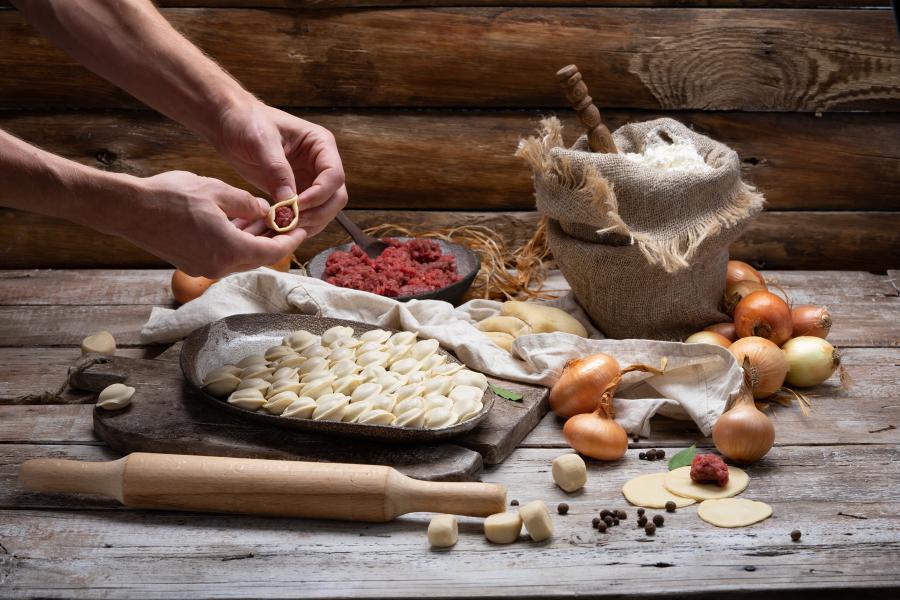 Do it yourself: cooking masterclasses
In case you are so amazed by Russian culinary traditions, you may learn how to cook the authentic meals (which may also help to slightly show off in front of your friends in your hometown). Not only the listed dishes as Olivier or blini, borsch, or pelmeni, but dozens of other meals will be cooked by yourself and eaten right after. Of course, there will be a professional chef guiding you throughout the whole process. The real fans of Russian cuisine will appreciate such an activity!
If you were not hungry starting reading this article, we bet you are now. Do you want to explore Russian cuisine in St. Petersburg? Contact us in any preferable way: give a call, drop a message or visit our office. And then your foodie adventure will begin.