Welcome to Kolomna - one of the most beautiful cities in the Moscow region! The city on the Oka River with nearly 900 years of history has 420 historical and architectural attractions. The most significant attraction is the Kolomna Kremlin.
Kolomna is a very green city: there are many parks and gardens.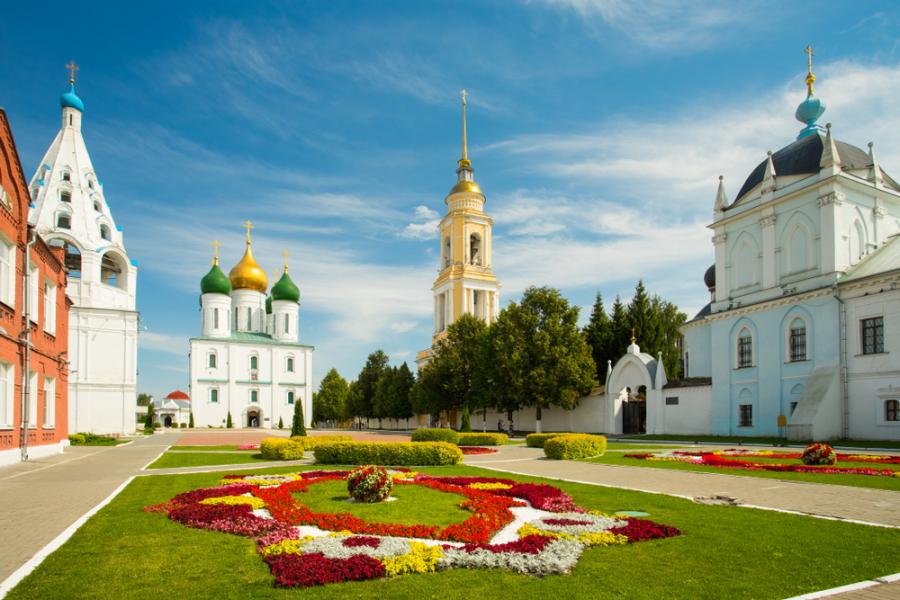 Kolomna was first mentioned in 1177 in the Laurentian Chronicle as a frontier post of the Ryazan principality and trade and craft center. But according to the latest excavations, the foundation of the city dates back to 1140-1160. At the turn of the XIV and XV centuries, Kolomna was the richest city of the Grand Principality of Moscow after Moscow. In 1781, Kolomna became the chief town of Moscow Province. In 1862, the town was connected by railway to Moscow, which was the impetus to the development of industry in Kolomna: 1863 was the year of the foundation of Kolomna Locomotive and Machine Works. During the Soviet period, in consequence of the socialist transformations, Kolomna turned into a major industrial, scientific and cultural center. During World War II, Kolomna was the center of the formation of artillery units. The Kolomna trains, built at the Kolomna Locomotive and Machine Works, fought on the fields of the Moscow Region. In 1961, the city began the construction of large multi-story residential buildings. July 4, 1977, Kolomna was awarded the Order of the October Revolution for the great achievements of the working people of the city in economic and cultural development and in connection with the 800th anniversary of its foundation.
There are 420 monuments of federal and regional significance in Kolomna. There are the St. John the Baptist Church at the Settlement (early XVI century), Assumption Church (1522), Church of the Epiphany(1680), Ascension Church (1799), Church of Archangel Michael (1833), and Brusensky (end of XVII century) and Spassky (XIV century) monasteries in the urban areas. There should be noted such civil structures as the Fire Department with Observation Tower (XVIII century), House of Merchants Shevlyagin and Meshchaninov, Trade Rows (first half of XIX century). There are Starogolutvinsky and Bobrenev monasteries founded in the XIV century not far from Kolomna. One can visit the History Museum, the Museum of Battle Glory, and the Literature and Art museum in Kolomna. There was partially preserved the rare monument of ancient defensive architecture — the Kolomna Kremlin. Today Kolomna is one of the largest industrial and scientific centers of the Moscow Region. In 2006 Kolomna was called the most comfortable city in the Moscow Region.