The Winter Palace is one of the most outstanding monuments of architecture, located in Saint Petersburg. It houses the State Hermitage Museum with its rich collection of art and historical objects.
The current building of the palace was built in 1754-1762 by the Italian architect Francesco Bartolomeo Rastrelli during the reign of Empress Elizabeth. This is the fifth building of the Winter Palace and the most outstanding in size. It is worth mentioning that the four predecessors of the Winter Palace, unfortunately, were not preserved to this day.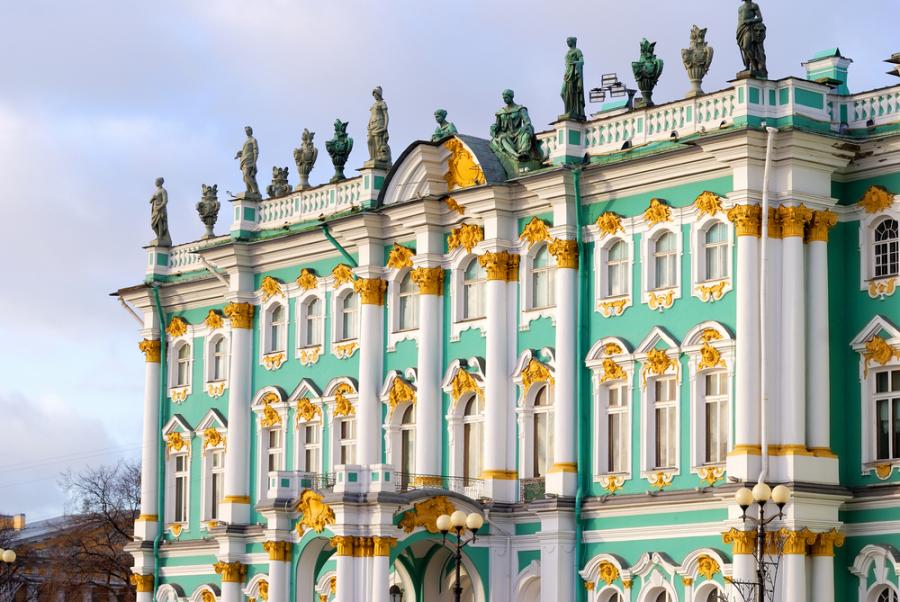 The palace is designed as a closed quadrangle and has an extensive yard. The abundance of excellent decorative details and many statues create a unique atmosphere of luxury and wealth. The south facade of the palace entrance has three arches that lead to the front yard, from which, one can get to the main entrance to the palace. Together with Rastrelli, several prominent architects such as Jean-Baptiste Vallin de la Mothe and Antonio Rinaldi, Giacomo Quarenghi, and Ivan Starov worked on the interior decoration of the palace.
In 1820, there was created the Military Gallery dedicated to the War of 1812 by the architect Carlo Rossi. In the 1830s, the followers of Rastrelli rebuilt some halls of the palace.
Book a guided tour to the Hermitage
After the revolution, the Winter Palace and other buildings were declared the State Hermitage Museum. Internal galleries and museums, as well as offices of the palace, were again restructured to make more space for the permanent and temporary exhibitions. During the Great Patriotic War, the Winter Palace was bombed three times, several rooms were severely damaged, but the destroyed areas, fortunately, were restored after the war. Nowadays, the Winter Palace with the Hermitage Theatre, as well as the Grand, the Small, and the New Hermitages is the world-famous museum complex — the State Hermitage Museum.