The Palace Bridge is a drawbridge across the Bolshaya Neva River in St. Petersburg, connecting the center of the Northern Capital to Vasilievsky Island. The bridge was named in honor of the Winter Palace of the Russian Emperors. It is located on the axis of Palace Lane and Stock Exchange Square.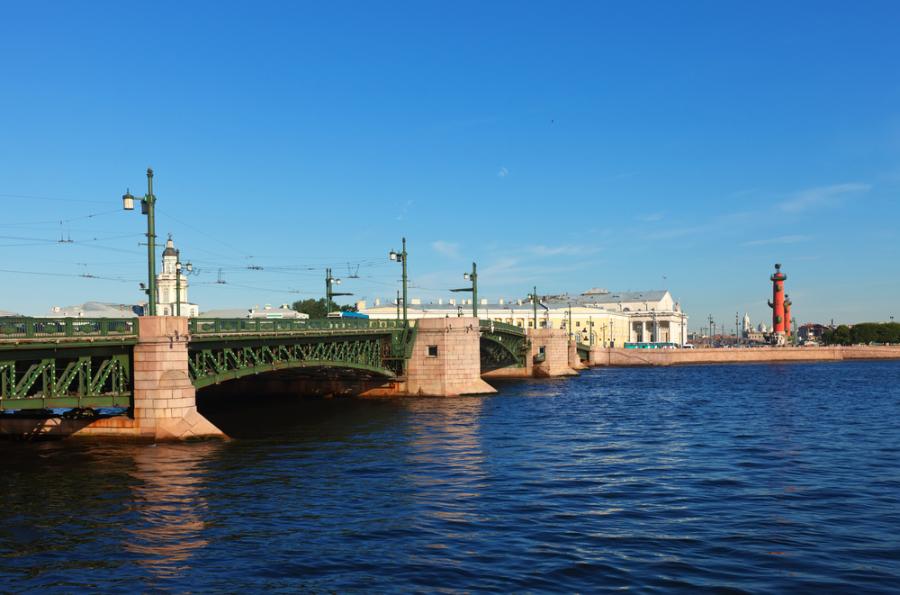 The bridge length is 260.1 m, width — 27.8 m. The Palace Bridge Consists of five spans. In 1901, there was declared a competition for a project of the permanent Palace Bridge. In 1909, there was adopted a project by engineer A. Pshenitsky — a graduating student of the St. Petersburg Institute of Railway Engineers. Architectural design by order of the President of the Academy of Fine Arts was entrusted to architect R. Meltzer. Due to the outbreak of war in 1914, the construction of the bridge was delayed. The bridge was opened on December 23, 1916. The celebration was modest.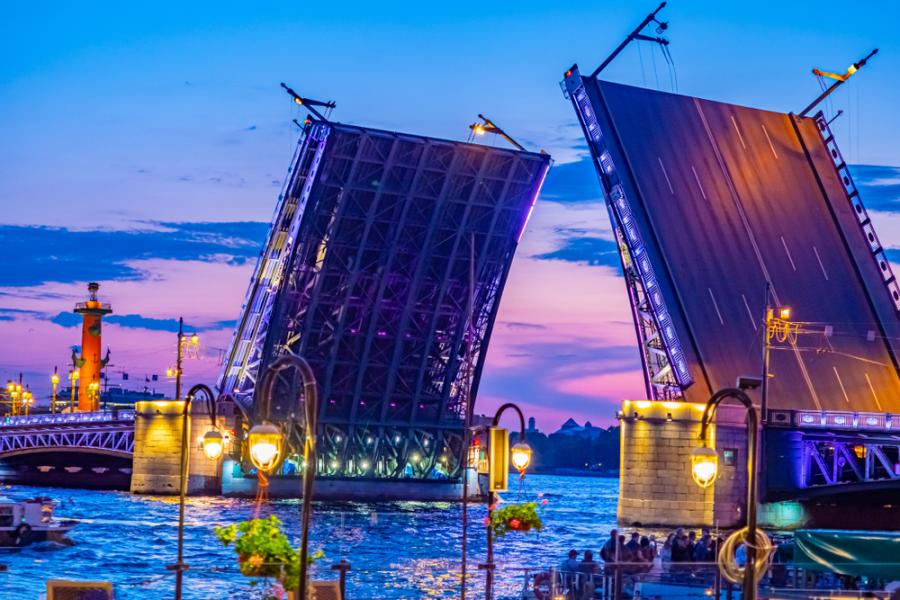 The artistic decoration of the bridge was not completed. The construction of railings, lamps, and pavilions of control was completed already in Soviet time. The cast iron grate of the railing, made by the sculptor I. Krestovsky by the project of the architect L. Naskov, appeared only in 1939 (before the railings were made of wood). The bridge was overhauled in 1967, and in 1977 it was reconstructed by the project of engineers T. Ivanova, V. Botvinnik, and architects Y. Sinitsa and M. Vinnichenko. In the course of this work, the movable part of the drawbridge was upgraded, the flooring was replaced, new lights were installed. In the summer of 1997, there was held another reconstruction of the bridge. The work was done under the direction of Y. Petrov. View of the Palace Bridge on the background of the spire of the Peter and Paul Fortress is the hallmark of St. Petersburg.