Petersburg in winter can become a real winter fairy tale for tourists. And although the winter weather of St. Petersburg is unpredictable and not always gentle, this cannot spoil the overall splendor of the city's architecture, which is no less beautiful in winter. In numerous museums, you will warm up and quickly forget what time of year it is, plunging into the exciting world of Russian history and art. But in this article, we want to talk about entertainment that will help create a unique feeling of a winter fairytale. If you are going to Petersburg in winter and want to get maximum pleasure, then dress warmly, prepare waterproof shoes and go!
Troika riding
The beautiful tradition of riding a horse-drawn carriage dates back to the early years of the Russian Empire. It became as much a symbol of the Christmas season in Russia as the Jingle Bells in the Western world. Imagine yourself dashing through a thick layer of crystal white snow in a richly decorated carriage with amazing strong horses upfront and majestic palaces in the background. Add to this the iconic jingle of the traditional harness bells and you will get the sight and sound of the Russian winter fairy tale.
We offer you to play an integral role in it, to place you in the front seat and indulge yourself in the true spirit of the Russian Christmas culture. You can choose from different locations: from Yelagin Island in the heart of St. Petersburg to the more secluded but not less magnificent imperial estates surrounding the city, namely Pavlovsk, Peterhof, and Tsarskoye Selo. The services of both professional photographers to capture the moments of joy and experienced tour guides to tell fascinating stories about the places you visit are also available on request.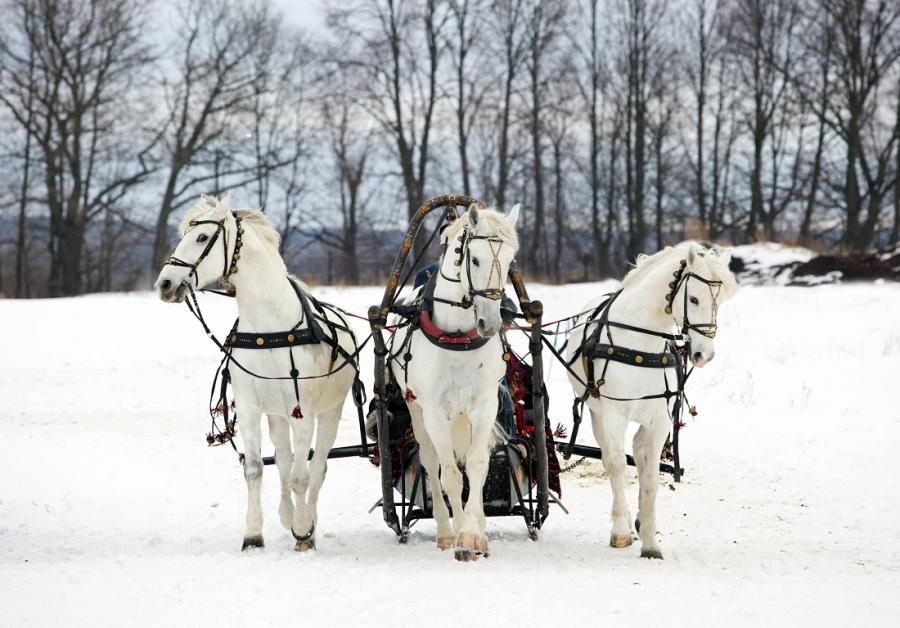 There are multiple stables and horse farms in central districts and on the outskirts of Saint Petersburg; some are private or quite difficult to find, however, most of them offer horse riding and horse sledding around Saint Petersburg and its suburbs. The most visited and popular of them are located in historical parks like Central Park on Elagin island, Shuvalovskiy park in the northern district "Ozerki", Krestovskiy island. They offer various opportunities for active leisure: personal riding lessons with instructors, hippotherapy, photoshoots with horses and carts or sled rent for guided excursions of Saint Petersburg and suburbs. The important thing is to make a pre-booking (especially in high season) to have guaranteed service.
Reindeer
Replacing regular transport for tours with a horse carriage is not really difficult; however, some visitors have a more special interest and wish to try sleigh ride with reindeer, a lately adopted symbol of Christmas, leading the way.
Enjoy our special city tour and have fun on a rink and reindeer farm!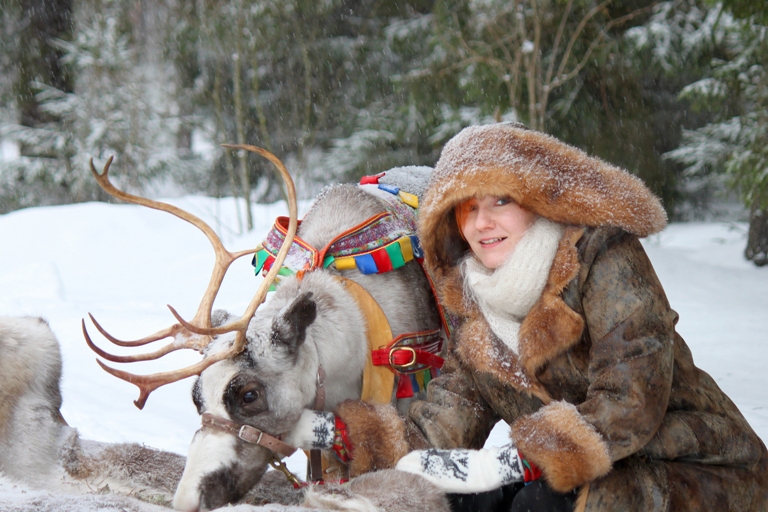 In the suburbs of Saint Petersburg, not far from the famous Pavlovsk park, there is a cozy barn with high-bred horses, cute ponies and clever reindeer. Upon request, the workers of the farm will decorate an animal, put it in a festive harness and will organize a sled ride in Pavlovsk, Pushkin or other towns nearby. "Lapland park" on Krestovskiy island has opened a special Murmansk reindeer farm. Reindeer there cannot rejoice you with a sleigh ride, but you are welcome to feed, pet and take photos with the animals. As a bonus, for most active travelers, Laplandia park also offers an open rink with skate rental, ice maze and ice hill.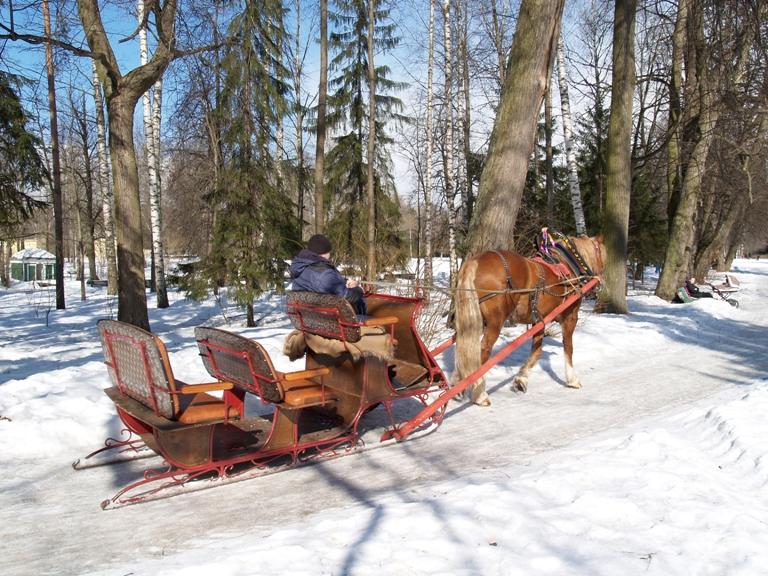 Take a sled ride around Pavlovsk park with breath-taking landscapes!
Husky and Malamute
Alaskan Malamute or Siberian Husky sledding is becoming more and more popular winter activity in the Saint Petersburg region; you will not find a dog farm in the city center, however, historical parks in suburbs (Pushkin, Pavlovsk, Gatchina and Peterhof) offer huskies and malamute sled riding; there is a possibility to include a professional photoshoot in a tour. Generally, husky farms and parks offer a 1-hour ride; in that time the dogs usually manage to run 8-16km. Reservation in advance is also required!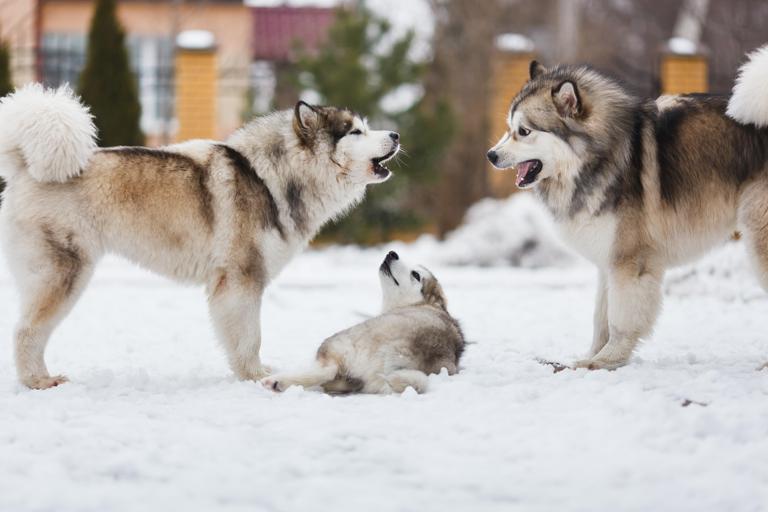 Visit a former residence summer residence of the Royal Family and meet beautiful sled dogs during a special winter tour to Peterhof.
You can combine historical excursions with fun activities. If you send us a personal request we can create a customized program for you.